Because we consider our pets as part of the family, we feed them what we feel would be the best for their overall health, with no compromises whatsoever in quality. We at POLYSTAR fully agree with this way of thinking. We only use FDA approved products. The same grades which contain products destined for human consumption. This holds true for all raw materials, QA, and our commitment to offer you the best products available. This commitment runs true for all products we manufacture.
The Pet Food market presents many challenges. They vary from very high quality designs, different roll stocks and bag sizes, as well as multiple skus in a product family where some skus are of lower volume. Creativity, thinking outside the bag and looking at new avenues are necessary to yield a viable pricing structure along with on time deliveries.
Along with the challenges that some designs offer, proposing the right structure for the application occasionally requires R&D support. We can accommodate your needs from a very high opacity structure through to a clear, high barrier bag with a clear window and a metallized pack panel. From the simplest to the most complex of structures, we have a product formulation that's right for you.
All our resources, both internal and external, are at your disposal. Failure is not an option!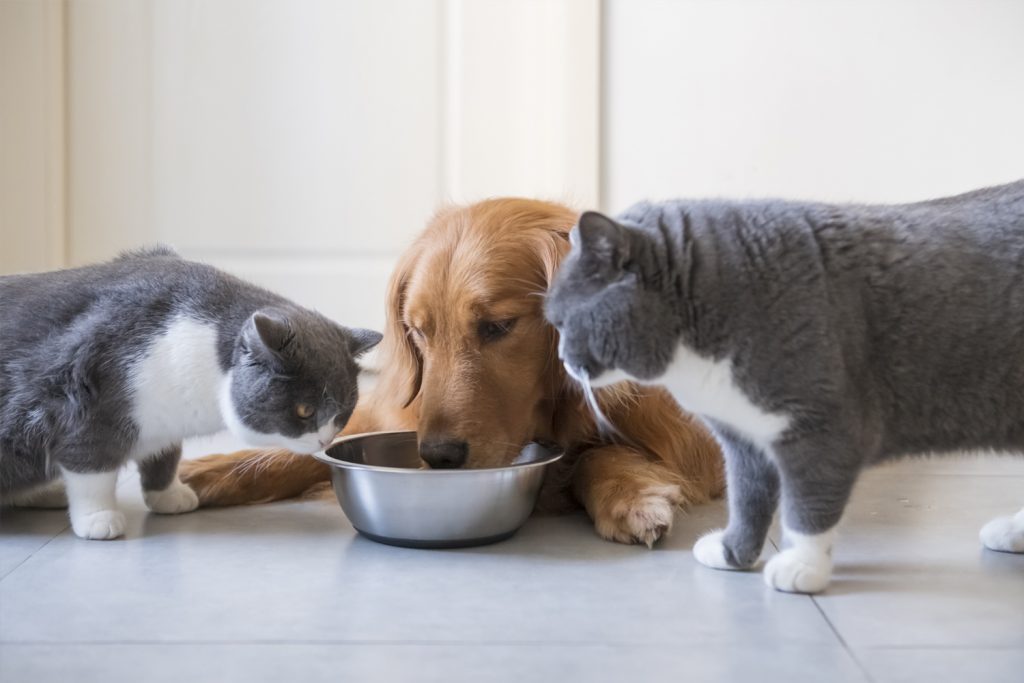 When high quality graphics are the key for product recognition we are up for the challenge.
You bring to the marketplace a product with a unique formulation that is well recognized. We have the tools to help make your product stand out from the competition.
POLYSTAR's understanding of flexographic printing technology has become second nature. We invest time and money to be a leader in print quality. We will work with you to bring products to the marketplace that will truly stand out. Not only do we offer a print quality that is second to none but we also back this with a complete understanding of what structure is needed to protect your products. From high gloss to matte finish, we have mastered both types of substrates.
Being a certified supplier to some of the largest manufacturers and distributors in the pet food industry confirms how committed we are to providing only the highest quality products.
Our product range includes stand-up pouches including tear notch and zipper, bags-3 side sealed or side gusset as well as roll stock in various films.
Our goal is to not only ensure the protection of your product but also to present a quality image on the shelf.
Barriers are extremely important. Product degradation due to moisture loss has to be prevented. High barrier structures based on high performance sealant layer is required.
Within this category, a major challenge is maintaining the freshness of your product. The only way to do this is by using packaging products that will maintain the quality, taste and texture of your product. We want your product to taste like it just came off the production line.
POLYSTAR uses only high quality plastic films that are FDA approved. We leave no margin for error and never compromise the quality of the films. Using the best metallized and clear high barrier films, POLYSTAR will work with you to ensure that you use the best structure suited to your product. This will make certain that there are no compromises to the taste and freshness of your product from the day it leaves your manufacturing operation to the day it is opened. Combined with the high print quality we offer, you can feel confident that your products will catch the attention of all consumers.
Our product offering include rollstock, pre-made bags and pouches.
From pig ears and pig strips to cheweable bones, we offer large bags which provide good optical properties with the required level of puncture resistance.
Often the challenge is to get the correct mix of physical and chemical properties for your product. We will ensure you have the perfect bag structure for your specialty product. We offer bags with high puncture resistance as well as added clarity. Products are often offered in pre-made bags; the inherent challenge for these types of products is the volume of the product to be packaged. Understanding what is required for your products is essential for success.
For more information about your next packaging project,